Hi there! Mom of two small, very creative, and crafty pre-school aged kids (and one baby), scrubber of walls, and owner of paint-stained items. Do you love the idea of purchasing a crafty gift for your little one, but you aren't up to date on exactly which options to choose? Or are you interested in adding to your own set of craft supplies? If so, we've got the rundown on some great and not-so-great ones to add to your mix!
Option #1: Washable Paint
We've gone through many sets of washable paint here, but because of setup and drying time required, paints are a less popular option these days. Washable/finger paint is great for kids that can't hold a utensil yet, but not so great for babies and toddlers who put everything in their mouth (even though most options today are non-toxic).
Pros:
Very easy to clean off hard surfaces

Great for kids who can't hold a utensil
Cons:
Too translucent

Requires setup and maintenance of water

Requires drying time
Option #2: Crayons
Crayons are great in their portability and quick setup, but not so great when adventurous children start coloring on walls or furniture. Crayons can also be very breakable depending on the style you get. Nowadays they do offer larger, triangular-shaped crayons for little learning hands.
Pros:
Portable

Quick setup

A solid time occupier includes peeling the paper wrapper off
Cons:
Doesn't wash easily off the walls (unless you get the washable variety)

Can break easily
Option #3: Twistables!
I didn't know these were a thing until one of the Grandmas gifted them to us. They are twistable crayons and colored pencils, both addressing the problem of breakability, but still very portable and easy to set up. These are one of my favorite options as a mom for unsupervised coloring.
Pros:
Great for developing pencil-holding skills

There are multi-color options which are fun
Cons:
Some breakability, but not as much as crayons
Option #4: Gel crayons
I also didn't know these were a thing until that same Grandma gifted them to us. Gel crayons are so smooth and fun to use, even as a parent. I have noticed they aren't as washable and can leave behind a residue that can migrate to places other than paper, but this is my favorite choice for supervised coloring.
Pros:
Great opacity

Super smooth
Cons:
Not as washable

Pricey

Can leave behind a residue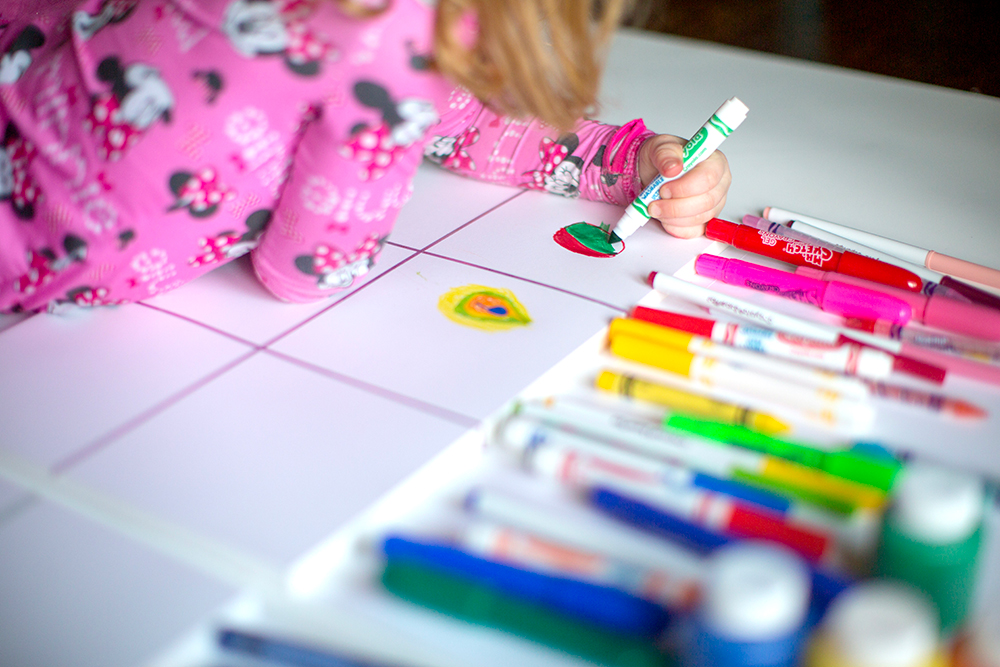 Option #5: Washable markers
Washable markers are great and these days, there are so many varieties (skinny tip, regular, colors). These are easy to wash off of walls. The major issue we've had is that kids under 4 are usually the culprits in leaving the caps off of the markers, so we have to replace them often.
Pros:
Washable! Even more so than crayons on the walls
Cons:
Kids under the age of 4 aren't always the greatest at putting caps on, so markers can dry out fast and need replacing often
Option #6: Washi Tape
Washi tape is very popular these days, and while not necessarily considered a "coloring tool", I've found it to be a cleaner alternative for creativity and developing fine-motor skills. There are so many options here and it's very accessible.
Pros:
Working on a different fine-motor skill than drawing

Inspires creativity
Cons:
Option #7: Acrylic Paint (not shown)
While the appeal of acrylic paint is that it's opaque (kids can really see the results of their efforts), hopes are quickly dashed after I count the number of shirts we've ruined with acrylic paint. Like washable paint, acrylic paint requires a bit of setup, drying time, and supervision from parents.
Pros:
Good opacity

Works well on all types of material
Cons:
Not easily washable!

I have stained clothes and tables to prove it
Option #8: Washable chalk paint pens (not shown)
Chalk paint pens are really fun to use as a supervised activity. They can be used on regular paper, smooth paper (like chalk contact paper), but even the washable variety requires a bit of scribbling.
Pros:
Good opacity

Fun and colorful colors
Cons:
Not as washable as you might think

Supervision recommended

Best used on smooth paper surfaces
My favorite choices are twistables, gel crayons, and washi tape!
My kids also enjoy crafting with scissors, tape, glue, and glitter. I've heard from many teachers that they strongly encourage scissor use before Kindergarten. So that's another great thing to expose them to, complimenting all of those coloring supplies.
My final tip: I strongly recommend never letting children find out what glitter is, but when they inevitably do, a great vacuum is recommended!
You've got the coloring supplies, now here are some products to try them out on…
I hope that helps!
Steph Skardal is a multipotentialite mom of three girls under the age of 5 (ages 4, 3, and 8 months), working as a software engineer and professional photographer. In her free time, she enjoys hobbies including sewing, running, and competing with her husband over who is the most funny.