Baking is a great inside activity for rainy or snowy days. As much as I love a cuddly day at home, keeping the kids occupied for that long is not easy.  We enjoy crafts, playing games, watching movies, and baking. A lot of baking.
Over the years, I have spent a lot of time cooking with my kids. I have picked up a few tricks to make it a fun and enjoyable experience for everyone. I think of cooking the same way I do when I am doing a craft. It is an activity, but one that yields something delicious to eat at the end.
1. Pick an easy recipe to start with. Muffins are perfect because you can make them with nothing more than two bowls and a spoon. There are lots of jobs kids can do – measure, stir, put the liners in the muffin tins, scoop the batter.
2. Bring the kids into the kitchen on a day when you are not in a hurry. If you are trying to get dinner on the table on a busy weeknight, or need to bake 100 cupcakes for the bake sale, it is probably not the best time to have the kids helping you.
3. I get everything ready before we start. I pull the ingredients out, get the tools out, and then ask the kids to come help me.
4. It's going to get messy. There will be flour on the counters, it's just the way that it is. That is what makes it so much fun.
5. Kids need to help clean up the mess, it is part of cooking and the process. Let the kids clean up the spills, load the dishwasher, empty the dishwasher. It might not be exactly the way that you want it done, but it gives the kids a sense of pride and ownership over the kitchen.
BANANA CHIP MUFFINS
MAKES: 18 muffins
2 ripe bananas
2 eggs
1 cup sugar
1/2 cup oil
1/3 cup buttermilk
1 teaspoon vanilla
1 3/4 cups flour
1 teaspoon baking soda
1/2 teaspoon salt
1/2 cup mini chocolate chips
1. Preheat oven to 350°. Line two muffin tins with 18 paper liners.
2. In a medium bowl, mash banana with a fork. Set aside.
3. In a large measuring cup or bowl, whisk together oil, buttermilk, and vanilla. Add mashed banana and mix until combined. Set aside.
4. In another large bowl, whisk flour, baking soda, and salt.
5. Pour the wet ingredients into the dry ingredients. Mix until just combined, the batter will have lumps. Fold in chocolate chips.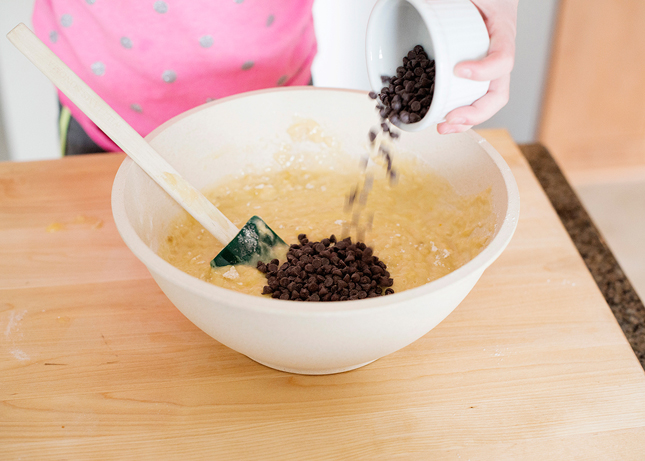 6. Fill the muffins 2/3 of the way.
7. Bake for 18 to 22 minutes, or until golden brown and a toothpick comes out clean.
About the Author
Bree Hester is the blogger, photographer, and videographer behind BakedBree.com. Baked Bree is a place where you will find great recipes and inspiration for your next family adventure. Follow along with all of her adventures on Instagram @BreeHester