While my husband and I love to look at our wedding album and re-live those moments we shared with family and friends on that day, we have one regret: we opted not to have engagement photos made. I know! A wedding photographer who didn't have an engagement session! Who am I?!
We had an intimate destination wedding and our photographer had to travel to capture our day, so some of the reasons behind our choice were logistical.
If you can have engagement photos and it makes sense for your busy lives, there's simply nothing I would encourage you to do more prior to your wedding. Here's why: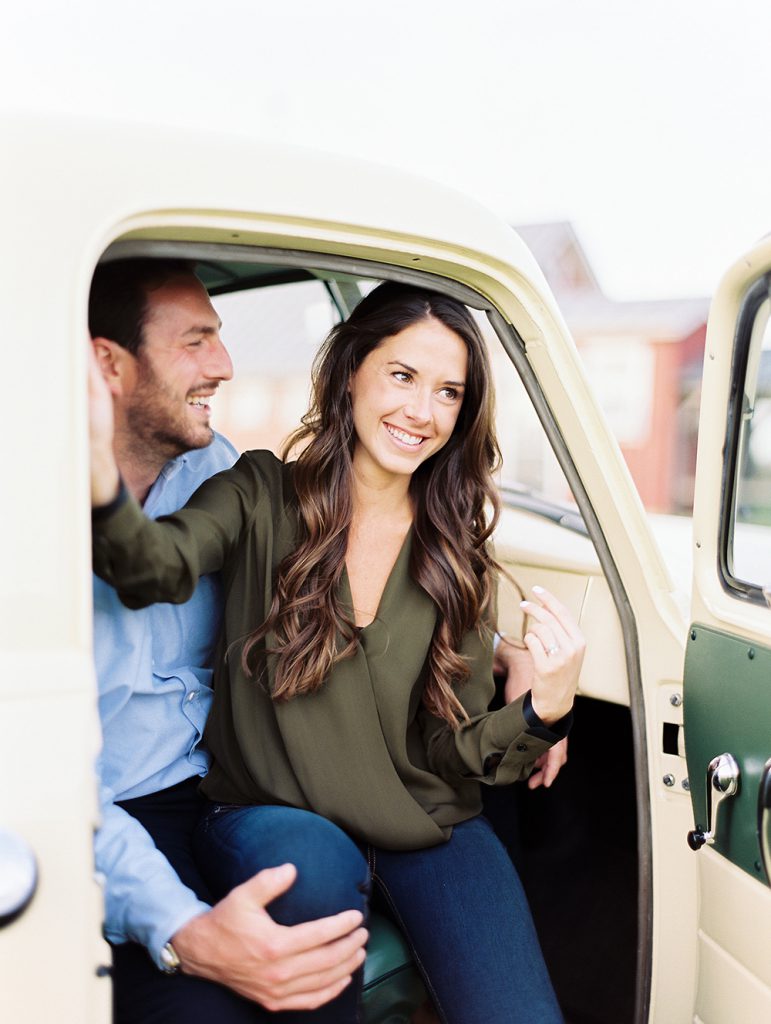 1. Having photographs of yourselves in a relaxed, everyday setting can be super romantic and will someday remind you of this exciting season in your lives; before the home renovations, the bouncy babies, the job changes, and the travels! We have hundreds of photos of us in our wedding day wardrobe, which was meticulously thought out and planned for. What we don't have from that time in our lives is a single photograph of us wearing our more commonly worn clothing, looking more like our natural, everyday selves.
2. There is simply no better way to get to know your photographer. Not many of us are used to the feeling that comes along with being in front of a camera, so use this time to find some comfort in that. Practice makes perfect and an easygoing 30-minute session will help to ease any nerves you may have on your wedding day. Make time to have a glass of wine, a cup of coffee, or a snack beforehand or afterward, and relish in some down-to-earth friendship with the person who will be spending the better part of your wedding day with you. I have walked away from countless engagement sessions with new friends and those friendships continue on many years later.
3. Exploring a new place or revisiting a spot with sentimental value will only enhance your season of engagement! Every now and again, my husband and I re-do our very first date, and I've always thought it would be a great backbone to an anniversary session because that first date set the tone for our entire relationship. Imagine investing some time into how the backdrop of your engagement photos will help you to re-live these happy memories for decades to come.
4. Bring the kids/pets! If you have babies or fur babies, this is a perfect opportunity to include them in your celebration! Whenever a client asks me if they should bring a child or puppy to an engagement session, I shout from the rooftops, "YASSS!". You will never be disappointed when including these special members of your family into a portrait session that is all about your love!
5. Bottom line: they are so much fun! I exclusively shoot film at engagement sessions and by the time the first roll of film is finished, 100% of my wonderful clients have settled into a groove that lets us all enjoy the remainder of the shoot.
Now that my husband and I are settled into a family life with two children, a house, careers, a dog, and eight crazy chickens, we cherish the moments we are capturing now during family sessions and when I take my camera out at home. But someday soon, we are planning to do an anniversary session to make up for the opportunity we passed by during our engagement. I can't encourage you all enough to get in front of the camera and relish in this time of your lives!
About the Author
Jackie Fox is a Vermont based film photographer specializing in weddings and family portraits. Her in-person workshop, The Alchemy of Motherhood, launches this autumn. Information on The Alchemy Workshop can be found at www.alchemyofmotherhood.com. Her work is found at www.jharperphotography.com.