With Halloween approaching, there is excitement around costumes, decorations and the endless amounts of sugar-loaded treats that are to come. Take the opportunity to teach your children that treats come in many different shapes and sizes!
These recipes are sure to get your children (and yourself) excited about Halloween, in a healthy way!   
Disclosure: these treats are not only kid-friendly, but also adult-friendly. I shared them with my co-workers and they were gone in a flash!
Clementine Pumpkins
Serves: 6
Ingredients:
6 clementines
1 stalk celery
Directions:
Peel the clementines.
Slice the celery stalk in half lengthwise. Cut small pieces out of the thin stalks to make the stems.
Insert the small celery stem pieces into the top of the clementines.
BOOnanas
Serves: 8
Ingredients:
2 medium bananas
1 cup Greek vanilla yogurt
8 dried cranberries
16 mini dark chocolate chips
8 Popsicle sticks
Directions:
Slice both bananas lengthwise and then in half to get 8 separate pieces. Insert Popsicle sticks into the flat end of the banana pieces.

Place bananas onto parchment paper and freeze for an hour.
Dip the frozen bananas into yogurt and add 2 mini chocolate chips for eyes and one dried cranberry for the mouth. Freeze for an hour before serving.

Apple Monsters
Serves: 8
Ingredients:
2 tbsp Greek yogurt
16 mini dark chocolate chips
2 green apples
⅓ cup natural peanut butter*
½ cup slivered almonds
2-3 strawberries, sliced
Directions
Make the eyes by dropping small dots of Greek yogurt onto parchment paper and top with a mini chocolate chip. Place into freezer for 30 minutes.
Quarter the apples. Cut the center out of each apple quarter to create a mouth.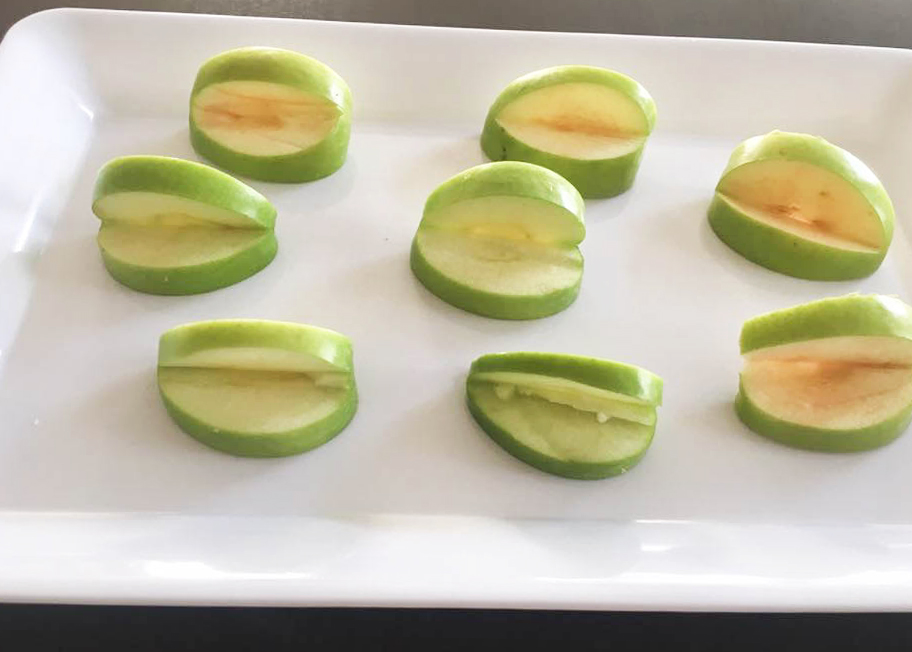 Spread peanut butter on both sides of the mouth cut-out. Press the slivered almonds into the top of the inside of the mouth for the teeth. Add a slice of strawberry inside the mouth for the tongue. Peel the frozen eyes off the parchment paper and place them on top of the mouth.

* How do I choose the healthiest peanut butter? Take a look at the ingredients list and the only ingredient listed should be peanuts. This goes for all other nut and seed butters as well.
For more healthy Halloween treat ideas, nutrition blogs, healthy recipes and more visit Emily Fitzgerald, MSc, RD at www.groundedlife.ca or follow her on Facebook, Instagram and Twitter.