At Pinhole Press, we love the holiday season! It seems extra special this year to know we've made it this far. We cannot wait to deck our hallways, blast the holiday music, and enjoy bottomless mugs of hot cocoa. We also can't wait to share our favorite holiday gifts for 2020. You can shop our favorite personalized gifts straight from your computer without even putting down your hot cocoa. Well, you might have to put down the cocoa, but only for a few minutes.
We asked around the office (virtual office, thanks 2020) to find out what some favorite photo gifts for the holidays are. Some of these are new products which many of you have already made very popular. But you'll also see some oldies on the list.
So without further adieu, here are our favorite picks for the holidays this year.
Itty Bitty Photo Book

"I would give one of our Itty Bitty Photo Books because they're just so cute! Since they're small, it's easy to make a really focused album. I recently made one from all the photos I'd taken at the Botanical Garden, and I LOVE it! It makes me happy every time I look at it!"

– Jenn A.
Photo Ornaments

"I will be remembering this wild year with our new photo ornaments! 8 come in a set, some to keep and some to share." – Erica G.
Daily Planner & Memory Book

"

I love the idea of giving a Daily Planner because it's perfect for parents or pet parents or people who have great travel photos. I think it's a great gift for adults.
For the kids I just found out about the Kids Memory Book and story starter. It's so cute and I want my nephews to get creative" – Katie A.
Photo Puzzle

"Earlier this year, we exchanged board games amongst family households, and it was a huge hit. So I love the idea of gifting photo puzzles for the holidays. It's a way to spread smiles while gifting a little activity for the whole family to enjoy! " – Aima R.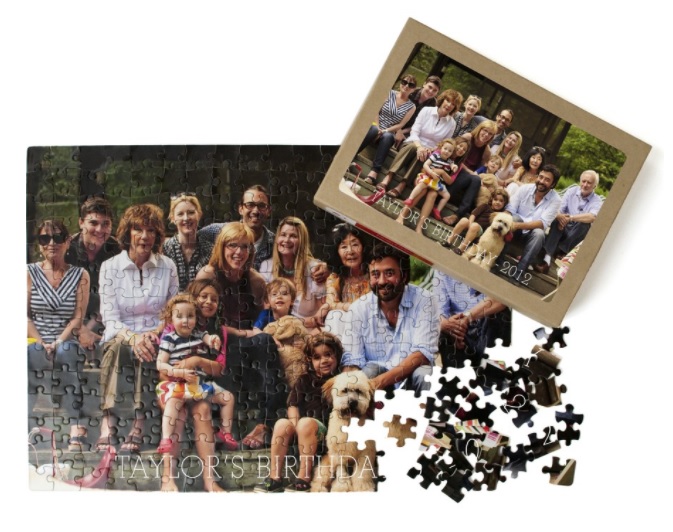 Photo Magnets Set of 12

"My go-to gift this year would probably be the set of 12 photo magnets. I love the quality and seeing my favorite memories every time I go to get something out of the refrigerator!" – Bill G

.
Photo Notepads

"Every year for Christmas I give my aunt notepads with pictures of her grandchildren on them. She always loves them, but with being socially distant this year, I think she will treasure them even more." – Jason G.
Still need some inspiration? Check out our Holiday Gifts under $50.