Baking Christmas cookies is always a tradition that I celebrate with my Mom every holiday season. Now that I live 2 hours away from her, it's the thing I look most forward to! We spend the weekend listening to our favorite Christmas music and whipping up all of our family favorite cookie recipes passed all the way down from my great-great-grandma (as you can see by the faded writing and very messy recipe cards.)
We bake really early so we can mail out a tin to my siblings and then freeze the rest (minus some for late night snacks) and pull them out around Christmas. The holidays are crazy enough so it feels good to get the holiday baking out of the way early!
Melting moments is in the top three of my favorites we make each year. They're such a simple recipe – 6 ingredients total and a unique texture and taste that really stands out on that festive cookie tray.
Cookie Ingredients
1 Cup Butter (or Crisco)

1/3 Cup Powdered Sugar

3/4 Cup Corn Starch

1 Cup Flour
Icing Ingredients
2 Tablespoons Butter (melted)

1 Teaspoon Vanilla

1 Cup Powdered Sugar

1 Teaspoon Coconut Milk (or any type of milk)*
Directions for Cookies:
Mix butter and powdered sugar together.
Mix in cornstarch – be careful it's a lot of powder!
Sift flour and add it in.
Chill for 1 hour in the refrigerator. The dough will be sticky.
Roll dough into 1 inch balls. Bake at 350 for 15 minutes and let cool.
While dough is chill make the icing to the top.
Directions for Icing:
Melt butter in the microwave.
Add powdered sugar, melted butter vanilla and milk and mix well. The icing should be stiff but slightly runny. *If it's too runny add more powdered sugar, if it's too dry, add a dash more of milk.
Add food coloring!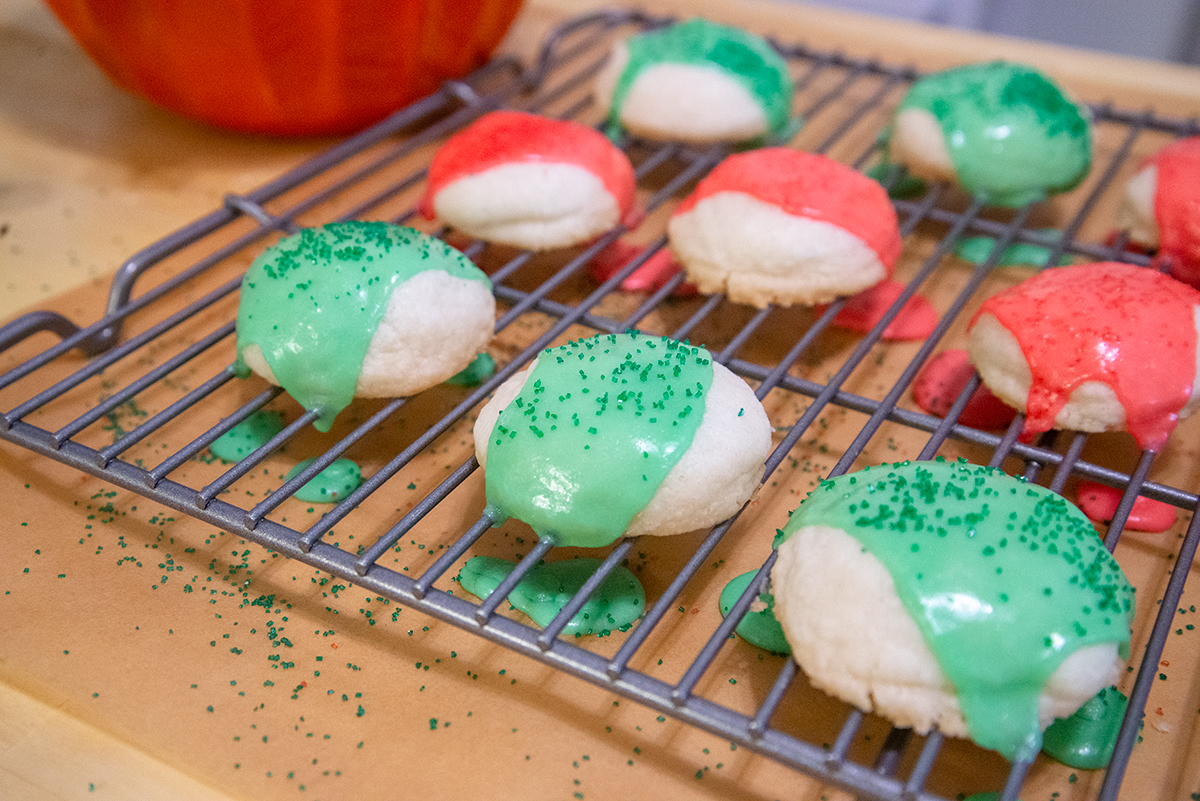 Once cookies are cooled add a dollop of icing to the top and let it drip down the sides. Let sit for 1 hour before you store them.
Happy Holidays!
About the Author
A self-proclaimed New Yorker from the Midwest, Rachel Castro lets design and color inspire her everyday life. Designer by day and DIYer by night, you can follow all of her latest projects on Digs & DIY, where she documents her favorites from recipes to redesign.